In this article you will see how to run tachiyomi on PC or MAC.
So Tachiyomi is the manga reading app that is being used by so many people worldwide by manga readers in recent times.
If you are still unsure why you should use Tachiyomi for reading manga then you can check all of the advantages of this app in this article on our website – The best app for reading manga Here I have explained all of the advantages of using tachiyomi.
You can also check this tutorial out from our YouTube Channel – Noble Suggestions
Steps to run Tachiyomi on PC or MAC
1. Download an Emulator For PC (or MAC)
You need an emulator to run Tachiyomi on PC or MAC. I prefer you download Bluestacks, it is what I use and it can help you run any app and it even works on MAC.
When you visit that website download the bluestacks as per your PC.
If you have windows 32 bit on your computer then choose that or if your computer has windows 64 bit then choose 64 bit one. If you are planning to install it on MAC then download the MAC version.
After downloading bluestacks move to the second step.
2. Complete installation of emulator
After downloading the emulator complete the installation process.
What you have downloaded will help you download bluestacks. Keep doing what is shown after you open the bluestacks installer. In the end, it will show you to download the emulator. Move to the third step after the download is completed.
3. Download Tachiyomi
After you complete the installation process and your bluestacks is running. You will see that you don't really get tachiyomi in the software right away. So to start running tachiyomi you need to download externally with the help of the browser you have.
Bluestacks lets you download apps that are available on the Google play store or apple store depending on which version of bluestacks you downloaded. But you are already aware that tachiyomi is not available on both of them. which is why you need to download it externally.
Download the stable version and then move to the fourth step. It might just let you directly run Tachiyomi on PC or even on Mac. Tachiyomi will be available on the home tab of bluestacks just like it is shown in the picture below.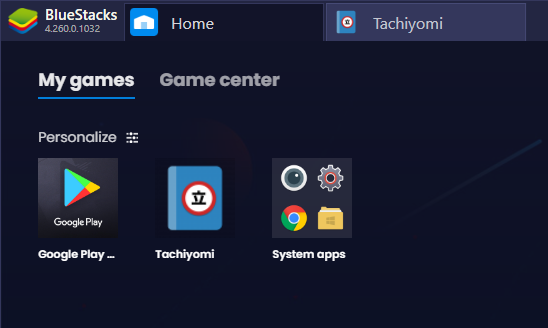 But if it still doesn't work for you then proceed to our 4th and final step.
4. Open Bluestacks
After opening bluestacks
Click on the three dots next to Installed apps on the top left on the "Home" screen.
From the drop-down menu, select "Install Apk". BlueStacks will ask you to browse the . apk file on your PC.
This will browse through your PC or MAC and will automatically detect any apk file and you will be able to run the app.
This will help you run Tachiyomi on PC or MAC and now you are good to go.
Now if it still doesn't work you then check the folder where tachiyomi was downloaded. It is generally in the download folder. If you open that folder and look for tachiyomi you will see the bluestacks icon in place of the tachiyomi icon.
Just click on it and tachiyomi will start to run on your PC or MAC.
Conclusion
This is how I run tachiyomi on PC or MAC. If you use other emulators on your PC then you can also use those instead of bluestacks. This was a simple step by which you could run tachiyomi and forget about ads bothering you. You will also easily be able to organize your manga on PC or MAC
Other Suggestions you might like